Western Wisconsin group encourages sustainable practices
Western Wisconsin farmers like Larry Knutson continue to benefit from participating in the Western Wisconsin Conservation Council, a non-profit group of farmers and supporters focused on environmentally sustainable practices.
Knutson Family Farms, dating back to 1867, involves members of the fifth and sixth generations. Larry and three others operate the farm: Larry's cousin Kevin and nephew Zachary and Kevin's son Aaron. Together with other family members, they manage over 2,000 crop acres, 300 pasture acres and about 80 beef cattle. The farm rotates corn, soybeans, alfalfa, wheat and grass for the cattle.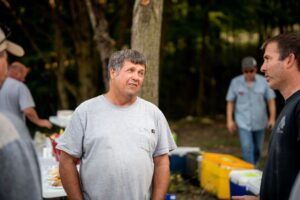 The Knutsons joined WWCC to contribute to a collaborative effort to explore and encourage new conservation practices. The confidence they've gained from talking with other members has helped the farm try new things with little hesitation.
"Being a member of this farmer-led group has helped speed up the process of integration," Larry said. "Not having to make all the mistakes yourself and having people tell us what to watch for has been extremely beneficial. It's a good feeling being a part of a community that is diligently trying new conservation practices."
WWCC collaborates with university researchers, environmental groups and community leaders to address water quality challenges. The group has grown to 56 members since its beginning, representing 51,627 acres and 13,630 head of dairy cattle, beef cattle, horses, sheep, goats and pigs.
Knutson Family Farms has been implementing conservation practices for more than 70 years, dating back to when Larry's father and uncles integrated contour strips, grass waterways, crop rotations, no-tilling and field terraces, which is a technique applied to prevent rainfall runoff on sloping land from accumulating and causing erosion. The current generation carries on this legacy by trying new practices such as different species of cover crops, dam flood field control, aerial application of cover crops and planting green.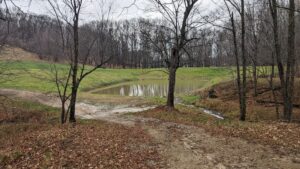 The Knutson family isn't alone in their pursuits; other farmers in WWCC are also trying new practices and seeing benefits. In 2022, members planted 12,090 acres in cover crops and 22,699 acres using strip- or no-tilling. Overall, the group increased conservation practices by more than five times since it began in 2018. Many farmers incorporate multiple practices on the same fields.
Those practices helped potentially prevent an estimated 82,856 pounds of phosphorus from leaving the fields, reduced an estimated 78,000 tons of sediment erosion and cut carbon dioxide equivalents by 8,821 tons, according to analysis shared by Farmers for Sustainable Food; Wisconsin Department of Agriculture, Trade and Consumer Protection; and The Nature Conservancy.
For comparison, a soil loss of 100 tons is about 10 standard dump truck loads, and 1 pound of phosphorus in a lake or stream can cause the growth of up to 500 pounds of algae, which can degrade water quality. The tons of carbon dioxide reduction by WWCC members equal the greenhouse gas emissions of 1,724 cars annually.
The modeling-based analysis estimated the impact of cover crops and reduced soil tillage compared to conventional methods typical to the group's region.
TNC, a key supporter of WWCC, encourages the group to continue trying new practices and growing interest.
"Farmer members of WWCC are always looking to try something new, to learn how farming can be done to build soil health and reduce impacts on groundwater and nearby rivers," said Steve Richter, director of agriculture strategies for TNC in Wisconsin. "These farmers are making a positive impact. WWCC farmers continue adding new conservation practices and additional acres of their farms into the tried and true practices like no-till and cover crops."
Knutson Family Farms has no plans to stop.
"There are several farmer-led groups in our area, and I encourage people to look into joining. The more farmer involvement we have in these groups will increase our soil health and water quality," Larry said. "We can advance conservation more quickly and help people be more comfortable trying new things to help their farms and our community thrive."
BY THE NUMBERS
Number of acres covered by conservation practices among Western Wisconsin Conservation Council members:
2018 ― 26,841
2019 ― 101,514
2020 ― 155,520
2021 ― 159,932
2022 ― 145,295
Potential impact of conservation practices:
Phosphorus runoff reduction ― 82,856 pounds
Sediment erosion reduction ― 78,000 tons