Our core project areas
Our group focuses on farms in our local community watersheds (Rush River, Kinnickinnic and Willow River watersheds).
Research Projects:
-- Regular well testing and analysis of water quality (in partnership with UW-River Falls)
-- Regular soil testing in support of nutrient management planning
-- Ongoing study of ground- and surface-water movement in various soil types
Educational Projects:
-- Annual field day events focused on promoting best practices in-field
-- Annual member meetings to collect member experience and publicize research findings
Community Awareness Projects:
-- Ongoing participation in adjacent watershed and related conservation groups
-- Promotion of the full array of offerings in conservation across our member counties
-- Direct involvement in educational and media events in support of WWCC aims
Financial Support Projects:
-- Annual cost-share program to support conservation practices in-field
-- Incentive programs for first-time cover crop users
-- Soil and water testing cost-share program for all members
Why we need your support
Successful partnerships with The Nature Conservancy, the Wisconsin Department of Agriculture, Trade & Consumer Protection, Farmers for Sustainable Food, the University of Wisconsin-River Falls, and many others provide funding and support to cover most of our program offerings. We also seek support for membership development, marketing, program development and administration of the organization. As such, we need the additional support of corporate and individual sponsors to ensure this vital work moves forward.
Given our status as an approved 501(c)3 organization, your sponsorship is fully tax-deductible. In addition, sponsors are recognized on our website and at all WWCC events.
On behalf of our Board of Directors, thank you for considering sponsorship of the WWCC and our farmer members.
To learn more, please contact our group via [email protected]. To become a sponsor, please click here to complete the form and mail to:
PO 426 165th St
Hammond, WI 54015
We thank our current sponsors and supporters: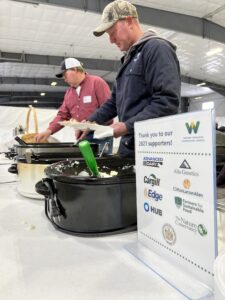 Compeer Financial
Edge Dairy Farmer Cooperative
Farmers for Sustainable Food
The Nature Conservancy in Wisconsin
Wisconsin Department of Agriculture, Trade and Consumer Protection