The Western Wisconsin Conservation Council (WWCC) is spreading across Barron, Dunn, Pierce, Polk and St. Croix counties in its four years of existence. Members are increasing conservation practices to reduce erosion, protect water quality and create better overall soil health.
At this year's annual meeting held Dec. 9, board members shared the group's many accomplishments, including hosting five field events, continuing University of Wisconsin-River Falls (UWRF) research partnerships and a third successful year of a cost-share program.
Steve Richter, agricultural strategies director with The Nature Conservancy, gave an all-encompassing report of how WWCC has enhanced conservation practices over the past four years. From 2018 to 2021, cover crops have doubled to 12,058 acres, reduced tillage has grown from 112 to 12,575 acres, no-till planting tripled from 4,232 to 12,009 acres, and the group has introduced practices such as reduced tillage, planting green into cover crop, low-disturbance manure injection, soil and plant tissue sampling, variable-rate fertilizer application and others.
WWCC's continued partnership with UWRF provided the opportunity for three professors to present ongoing research and a new cost-share opportunity with farmer members. Dr. Jill Coleman Wasik, associate professor of environmental science at UWRF gave an update on a well-testing project. The sampling effort has grown from 45 wells in 2018 to 83 wells this past year. Another project she is working on involves collecting water samples using lysimeters. Unfortunately, the drought this year was not conducive to this study, but she is optimistic for the future of the research.
"We continue to try and find out how nitrate is moving from the surface of the landscape into our wells," Wasik said. "By combing these two projects (well testing and lysimeters pulls), we will have the long-term database monitoring in the wells so we can understand what's going on in the deep subsurface and then start to explore more of what's happening at the surface and maybe how we can make changes to improve things."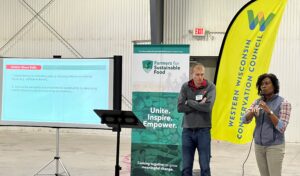 Together, Dr. Patrick Woolcock, assistant professor of engineering, and Dr. Natasha Rayne, associate professor of soil science at UWRF, introduced a project on the application of biochar as a soil additive to mitigate expensive fossil inputs and expand economic opportunities for farmers, while simultaneously aiming to improve soil health.
Woolcock shared how biochar-based fertilizers have shown promising benefits, including reduced nutrient leaching in soils, improved water retention and plant growth in poor soils, and when added to compost it has indicated an ability to retain nutrients within biochar from compost. Woolcock and Rayne brought this opportunity to WWCC members to seek acres to perform field trials using biochar compost created at the Mann Valley Research Farm in place of other fertilizers. The primary focus is improving farm profitability and environmental sustainability by developing additional products for income generation (i.e., a saleable compost) while reducing expensive fossil inputs and environmental impacts compared to conventional farming operations.
"My role has been to look at the ability of biochar to retain nutrients," Rayne said. "We believe there is definitely potential for biochar to retain nutrients and, therefore, increase yields, improve soil health over time and reduce nitrate leaching into soils, which we hope to prove with this project."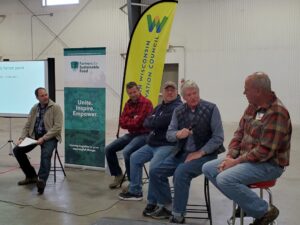 The annual meeting also included a farmer panel discussion on "Lessons from the Field." Jerry Emmert moderated the discussion with farmers Greg Friendshuh, Pat Johnson and Tom Sitz and agronomist David Tollberg. All panelists got into conservation practices for varied reasons, but the most common was to reduce erosion. Farmers talked about how they've had opportunities to play with different cover crops when using winter wheat.
"This year we tried crimson clover, which is supposed to die off, and that way we don't have to spray it off. It got to be six to eight inches in the fall. We established it with a no-till drill after the wheat came off and we threw in a couple tillage radishes just to shake up the neighbors," Sitz said.
Johnson shared how important GPS can be when you're starting no-till. Friendshuh expressed the importance of giving your farm enough time to plan and give the land enough time to adopt and see the benefits. He said it's important to talk to someone who has done it before and seek advice ahead of time to make your no-till trial work for you.
One of the biggest benefits of being a member of WWCC is learning from other members about what has been successful and what they have learned not to do again. The group plans to host more field days this summer to continue these conversations.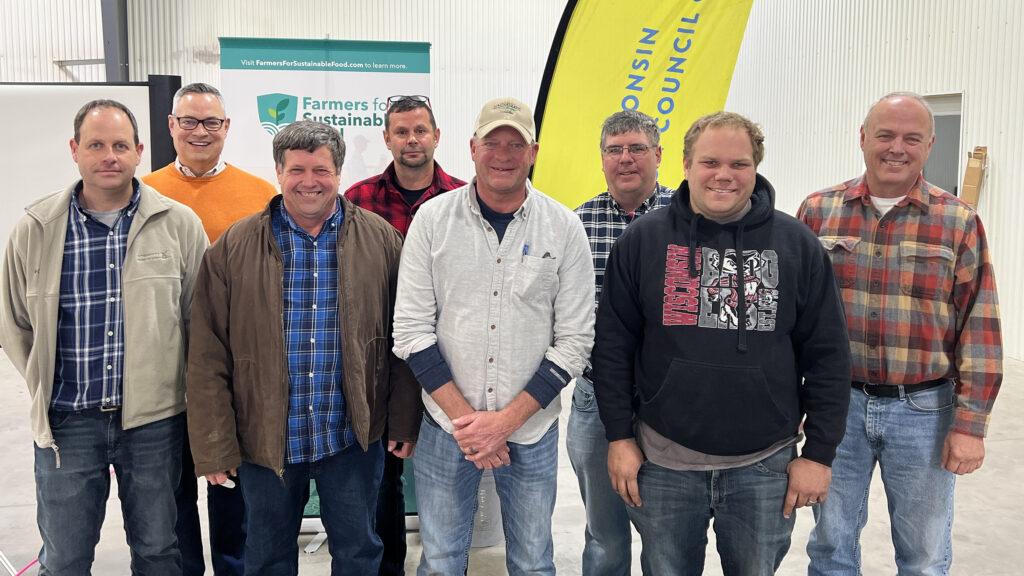 Left to Right: Jerry, Chris, Larry, Greg, Todd, Jeff, Tom, David. (missing Spencer)
At the members' meetings, WWCC chose to elect a full board of directors bringing on two new members, David Tollberg and Spencer Anderson. Returning board members are Todd Doornink, president; Greg Friendshuh, vice president; Chris van Someren, secretary; Tom Zwald, treasurer; Larry Knutson; Jerry Emmert; and Jeff Lueck.
New board member David Tollberg stated why wanted to be on the board: "Since I work with a number of the WWCC members in the area, I wanted to be a part of their cropping and I care about clean water. I am about representing farmers within this and about good agronomic practices. I think we can do both, get good crops and protect our water," Tollberg said.