WWCC strengthens water quality protections through conservation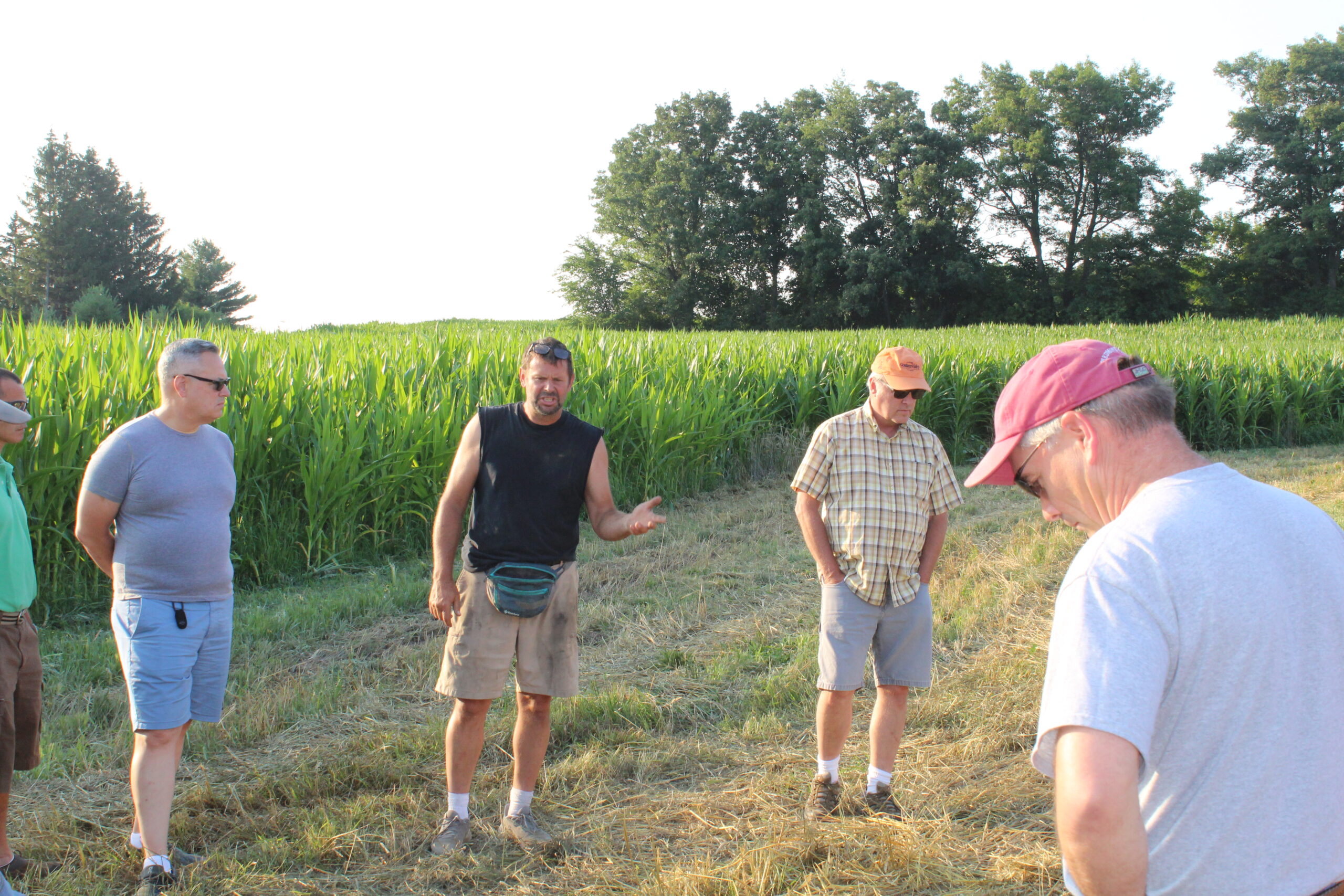 CLEAR LAKE, Wis. ― Trying new things on his farm and then sharing what he learns with fellow farmers is a crucial component of being part of a conservation group for dairy and grain farmer Greg Friendshuh.
Friendshuh milks about 2,000 cows and runs 3,400 acres of cropland near Clear Lake, Wis. He joined Western Wisconsin Conservation Council (WWCC) at its inception in 2018, but had already been experimenting with cover crops and no-tillage practices briefly before then.
"Being a member of Western Wisconsin Conservation Council is important because it promotes camaraderie and conversations between farmers," he said. "This isn't about government or academic agencies; this is about farmers helping farmers and there is a level of trust that comes with that."
WWCC is a nonprofit conservation group led by farmers in the western part of the state. The group's 52  members represent 47,180 acres and 16,919 head of dairy cattle, beef cattle, horses, sheep and pigs. The group collaborates with university researchers, environmental groups and community leaders to address water quality challenges.
Friendshuh emphasized how enjoyable it is to try new things on the farm. He began his cover crop trials with a mix but now uses primarily rye and loves to talk with other farmers about planting and harvest.
"Using cover crops is a long-term investment, and this has made cropping fun again," Friendshuh said. "It's really enjoyable when you get out a number of years and you start to see the benefits of your efforts."
Many farmers in WWCC are seeing benefits as well or are eagerly trying. In 2020, members planted 10,800 acres in cover crops, planted 10,493 acres using strip tillage of the soil, and planted 9,780 acres using no tillage. Overall, the group saw a 53 percent increase in the number of acres covered by conservation practices from 2019 to 2020. Many farmers incorporate multiple practices on the same fields.
Those practices helped potentially prevent an estimated 75,200 pounds of phosphorus from leaving farm fields and reduced an estimated 20,400 tons of sediment erosion, according to research shared by the state Department of Agriculture, Trade and Consumer Protection; the University of Wisconsin-Madison; and The Nature Conservancy (TNC). For comparison, a soil loss of 100 tons is about 10 standard dump truck loads, and 1 pound of phosphorous in a lake or stream has the potential to cause the growth of up to 500 pounds of algae, which can degrade water quality.
The modeling-based analysis calculated an estimate of the impact of cover crops and reduced soil tillage compared to more conventional methods typical to the group's region.
TNC is a key supporter of WWCC and helps to fund the annual analyses, which come from member surveys.
"Despite the ongoing pandemic, the Western Wisconsin Conservation Council had an impressive year," Steve Richter, TNC's director of agriculture strategies in Wisconsin, said. "Their membership increased, they found safe ways to host learning opportunities and they continued to apply conservation practices like reduced tillage and cover crops. They also tried new types of fertilizer and manure application to improve the use of nutrients by growing crops and reduce nutrient loss to rivers and streams."
Richter can see the passion of members and how much they want to make a positive difference for the environment. He is grateful for farmers like Friendshuh who are willing to try new practices.
"The water quality challenge we face in Wisconsin is substantial, but the efforts of WWCC members are making a positive impact," Richter said.
Friendshuh loves the benefits of the conservation work he is doing and the good conversations he's having with his farmer friends along the way. He said he continues to encourage others to try new practices and step out of the conventional box.
"If anybody was to just start doing different practices, they'll find out it's a lot of fun doing things differently than what's conventional," he said. "It's a great feeling to have the confidence that trying new things isn't going to break your bottom line as a farmer."
BY THE NUMBERS
Number of acres covered by conservation practices among Western Wisconsin Conservation Council members:
2018 ― 26,841
2019 ― 101,514
2020 ― 155,518
Potential impact of conservation practices:
Phosphorus runoff reduction ― 75,200 pounds
Sediment erosion reduction ― 20,400 tons