Researchers update members at group's annual meeting
From WWCC
More than 30 farmers, crop consultants, local officials and academics attended the first annual meeting of the Western Wisconsin Conservation Council on Dec. 9 in Baldwin, Wis.
Todd Doornink, dairy farmer and WWCC president, kicked off the meeting with a year in review and encouraged members to fill out their survey about conservation practices implemented on their farms.
One highlight of 2019 was the launch of WWCC's cost-share program to members.
"The goal is to keep it simple and encourage people to use conservation practices," Doornink said.

Dr. Jill Coleman Wasik, faculty at the University of Wisconsin-River Falls, and Heather Sumner Davis, lab manager, gave an update on the well-testing research they have been conducting in partnership with WWCC since May 2018.
"We are very grateful the program has grown over the past two years," Coleman Wasik said. "It's been a great opportunity to do some regionally relevant work. The data tell us nitrate levels are increasing in groundwater over periods of time, particularly in many agricultural regions. If you look globally, we're not unique."
The sampling takes place in five different watersheds. Samples are taken at wells on WWCC member property and tested for pH, conductivity, temperature, nitrate and chloride. WWCC wanted to get an understanding of where the local community was at in terms of water quality in these areas.
Of particular interest are the health concerns that come with high concentrations of nitrate when it is present in drinking water.
"Levels of nitrate that we see in groundwater are dependent on a lot of things," Coleman Wasik said. "Soil types, depth to bedrock, depth to water table, whether soils are drained. The susceptibility of groundwater to contamination varies across the landscape in relation to these characteristics."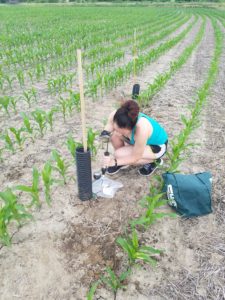 When the project began in May 2018, 41 wells were tested. In the summer of 2019, the researchers visited 59 wells.
When a member joins the group, the researchers sample their wells four times the first year. Wells are sampled in winter, early spring after snowmelt, not long after fertilizer applications, and then in the middle of the growing season. When wells are found to be stable over the first four samplings in year one, testing is reduced to once per year. Some wells are very stable, some are highly variable and require more monitoring.
"This is not something we would know if we had just gone out and sampled that well one time," Coleman Wasik said.
While 54 percent of samples collected have been above 10 ppm level, the researchers reminded the audience that tests were focusing on the wells that had highly variable results.
"Right now, there appears to be an upward trend, but is that a function of this year being so wet? We don't know." Davis said.
Generally, chloride and nitrate were positively correlated across all samples and wells, most likely because they are both applied to the land surface. However, that relationship appears to be different for wells in limestone versus those in sandstone suggesting different groundwater flow paths and contaminant sources.
The researchers also conducted a small pilot study looking at soil water in fields under different cropping practices. Soil water samplers called lysimeters were installed 2 and 4 feet under the soil surface in fields with conventional corn, no-till soybean following cover crop, and no-till alfalfa. Soil water nitrate was lowest under alfalfa. Under the corn and soybeans nitrate concentrations were higher at the 2-foot depth and lower at the 4-foot depth, suggesting plant uptake.
Nitrate trends over the summer season were likely a response to manure applications and plant uptake. By the end of July, nitrate concentrations in all soil water samples were less then 5 mg/L.
In the coming year the researchers would like to get more information about many of the wells they are testing. Only 38 of the 59 wells tested have well records describing their depth and the aquifer they pump. They would like to see the lysimeter study expanded in order to give WWCC members better information about how cropping practices affect nitrate loss from soils to groundwater in the region. "What we need is a bigger database to come up with real results," Davis said.
They also welcome feedback from the membership regarding studies that would be most useful to farmers.
Tom Zwald, a dairy farmer and WWCC board member, led a group discussion to plan for 2020 activities. Ideas included continuing the research partnership with UW-River Falls and innovative practices to highlight at field days.
Doornink said the group is looking forward to 2020. "We need some good direction from our members to see where we want to go, and we got that today."
Watch the WWCC website for information in 2020 about field days and other opportunities.